Join your Discovery Family for a fun day of displays and activities! DISCOVERY SCHOOLS HEALTH FAIR SATURDAY, MARCH 19TH 2022 10 AM TO 1 PM Admission: Free but we will be accepting donations and money will be donated to Louisiana Cancer Research Center & National Alliance on Mental Health New Orleans KENNER DISCOVERY LOYOLA CAMPUS 3837 LOYOLA DR. KENNER, LA 70065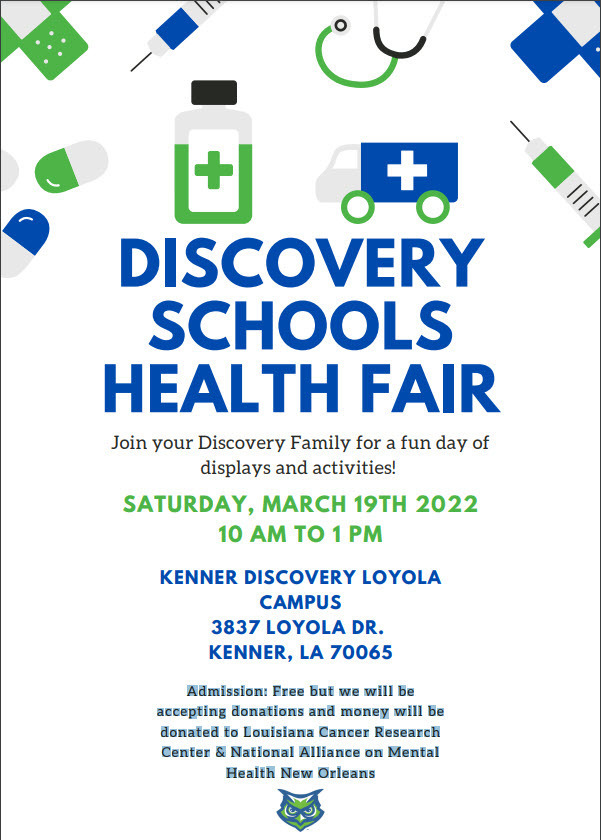 The Sky Zone/Discovery event planned for tonight (2/24) is cancelled due to Sky Zone losing power and not having an estimated time of restoration. They are closed for the remainder of the evening.

School's out...Friendly reminder: It's Random Acts of Kindness Day!! All day kindness has been shown on our campuses. Let's share our stories:
https://flipgrid.com/9d92940e
(click and share)

Discovery Health Sciences Foundation, Inc. Request for Qualifications for Construction Management at Risk, Addendum #3 February 17, 2022:
https://5il.co/15tp1

Please use the following link to share recent random acts of kindness experiences. Today is Random Acts of Kindness Day! Let's make it a great one:
https://flipgrid.com/9d92940e
This invitation is for students, faculty, staff, families, and anyone else willing to share their kind stories.

DHSF Request for Qualifications for Construction Management at Risk Project Meeting Minutes:
https://5il.co/15qky


Let the good times roll! Come and support the Swamp Owls this Mardi Gras season!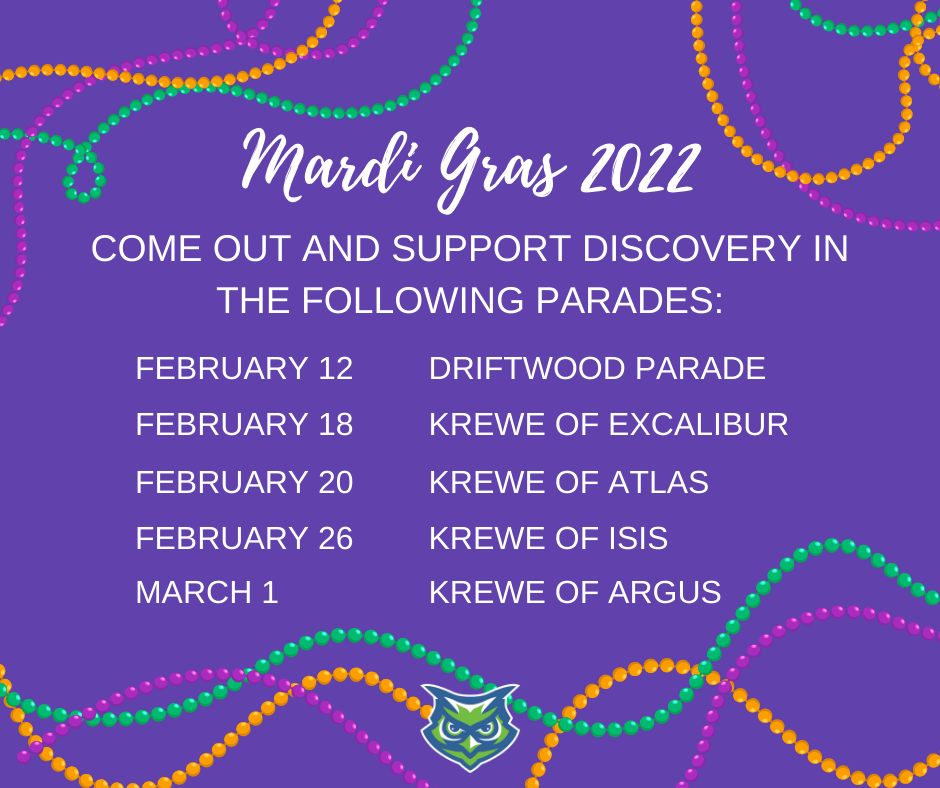 Discovery Health Sciences Foundation, Inc. is soliciting a Request for Qualifications (RFQ) for Construction Management at Risk proposers for a new arts and athletic performance center based on approval by the Joint Legislative Transportation Committee to use CMAR as an alternative project delivery. The RFQ is available in electronic form and may be obtained from Albright Management Strategies, LLC beginning at 10:00 a.m. on January 20, 2022 by contacting Ms. Rachelle Albright, at (504) 416-0890, by email at
rachelle@amsmgt.com
or in writing at 234 Beverly Drive, Metairie, LA 70001. The RFQ will also be available via Discovery Health Sciences Foundation's website,
www.discoveryhsf.org
. A mandatory project meeting will be conducted on February 8, 2022 at 2:00 p.m. at Kenner Discovery Health Sciences Academy located at 3837 Loyola Avenue, Kenner, LA 70065. Deadline for questions is February 14, 2022 at 2:00 p.m. It shall be noted that all questions regarding the RFQ shall be communicated in writing or by email to Ms. Rachelle Albright. Deadline for RFQ response is February 22, 2022 by 2:00 p.m. Additional details are provided in the RFQ. Below is the link to the RFQ with Exhibits:
https://5il.co/14hzr

OnCourse Connect Update At this time, OnCourse Connect is back up. Please ask students to close their browsers before trying to rejoin OnCourse Connect. EdTech Department

Good morning, The EdTech Department is aware of the OnCourse Connect outage. We are working with OnCourse to get this back up and running.

We'd like to announce our new food service vendor, SLA Management. SLA brings 19+ years of food service experience, only specializing in K-12 schools. SLA will begin providing healthy school meals at all Discovery campuses starting January 3, 2022. To help with a smooth transition, please remind your student to bring their student IDs. Meals are free through June 30, 2022.

Winter STEM Robotics & Chemistry Camp Registration Now Open! Join GNO STEM and local high school robotics team members for a morning of tinkering with EV3 Robotics and Circuitry -- Tuesday, December 28 from 9 a.m. until noon. Students will explore the building, coding, and circuitry of EV3 Robotics alongside our certified instructor and robotics team members. This camp is open to 5th-8th grade students. No prior experience is required.
https://www.eventbrite.com/e/winter-stem-robotics-and-circuitry-camp-tickets-221011400047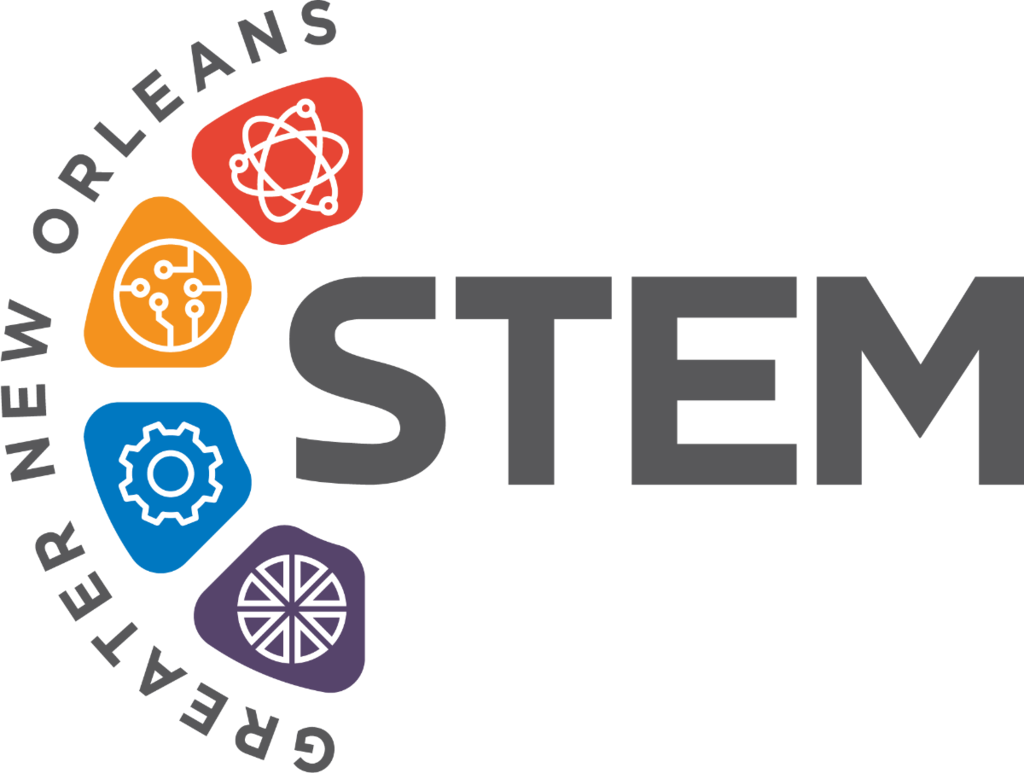 The Discovery Health Sciences Foundation will hold a Regular Board meeting on Monday, November 15, 2021, at 4:15 PM. in the cafeteria of the Dr. John Ochsner Discovery Health Sciences Academy, at 1108 Shrewsbury Road, Jefferson, LA 70121. We request all Board members to attend in person. To view the meeting agenda, click the following link:
https://www.discoveryhsf.org/o/discovery-schools/browse/149648

Google Docs Blocked Error Message About 4:30pm, Google Docs received an error message that it was blocked by Lightspeed. This error has been resolved. Users will need to restart devices in order to access Google Docs again. We apologize for this inconvenience. Discovery IT Team