Winter STEM Robotics & Chemistry Camp Registration Now Open! Join GNO STEM and local high school robotics team members for a morning of tinkering with EV3 Robotics and Circuitry -- Tuesday, December 28 from 9 a.m. until noon. Students will explore the building, coding, and circuitry of EV3 Robotics alongside our certified instructor and robotics team members. This camp is open to 5th-8th grade students. No prior experience is required.
https://www.eventbrite.com/e/winter-stem-robotics-and-circuitry-camp-tickets-221011400047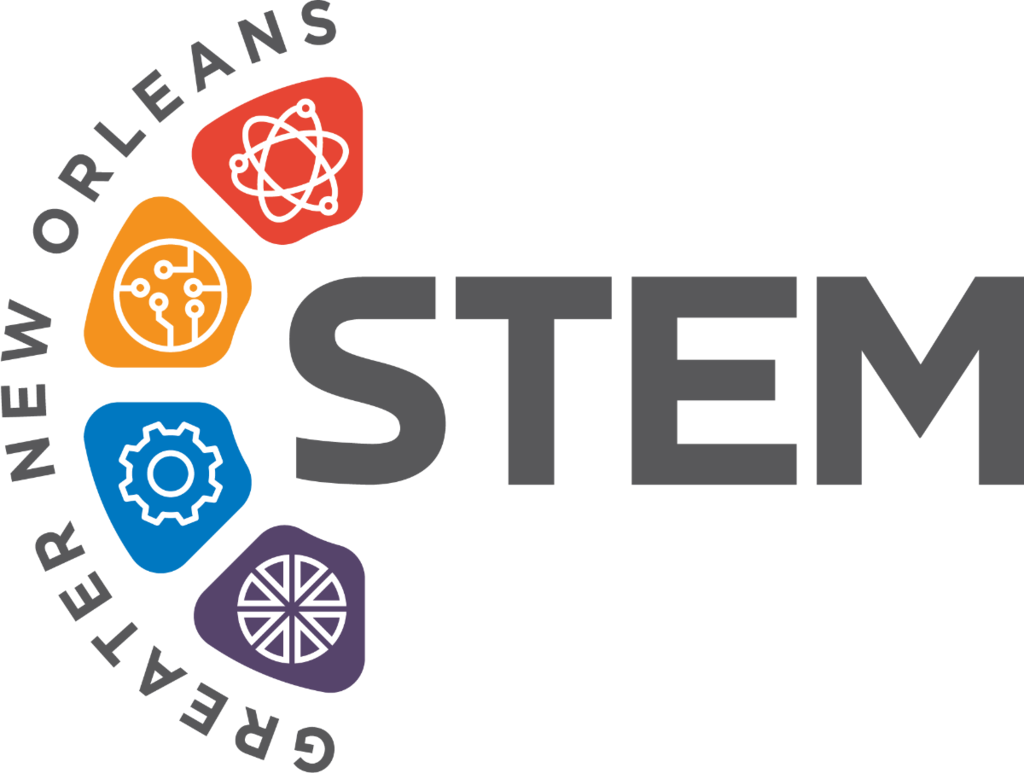 The Discovery Health Sciences Foundation will hold a Regular Board meeting on Monday, November 15, 2021, at 4:15 PM. in the cafeteria of the Dr. John Ochsner Discovery Health Sciences Academy, at 1108 Shrewsbury Road, Jefferson, LA 70121. We request all Board members to attend in person. To view the meeting agenda, click the following link:
https://www.discoveryhsf.org/o/discovery-schools/browse/149648

Google Docs Blocked Error Message About 4:30pm, Google Docs received an error message that it was blocked by Lightspeed. This error has been resolved. Users will need to restart devices in order to access Google Docs again. We apologize for this inconvenience. Discovery IT Team






Did you forget to add your student and/or family ID to get credit for selling raffle tickets? We can help! Email your ticket numbers or forward your receipt to
Michelle.Snow@discoveryhsf.org
. Please include your child(ren) names to be credited in the email.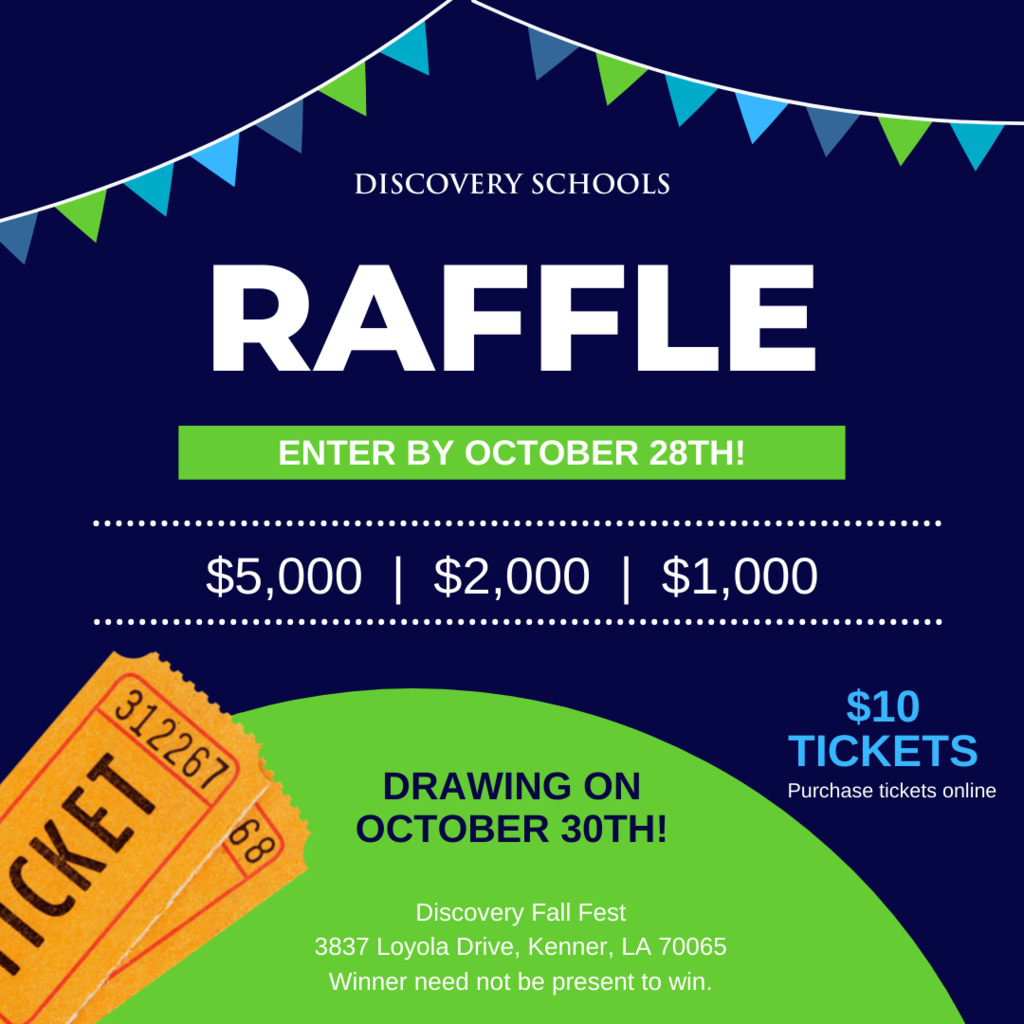 FREE drive-thru dinner happening now at Loyola and DJOD! The event is open to all. We still have meals to give out! Tonight's dinner is meatballs and gravy!

FREE drive-thru dinner happening now at Loyola and DJOD! The event is open to all. We have lots of meals to give out! Tonight's dinner is meatballs and gravy, mashed potatoes, and vegetable medley.

Student retakes/absentee photos are scheduled for the following dates: DJOD, Vintage, and Loyola - Monday, October 11, 2021 Maine - Monday, October 25, 2021 Image proofs will be directly emailed to you from Barberito Photographers.
Contact@barberitophotographers.com
504-455-6818


FREE drive-thru dinner tonight! Thursday, October 7 starting at 5:00 PM. The event is open to all. We will be distributing a total of 2,300 meals (1,450 meals at Loyola and 850 meals at DJOD). Tonight's dinner is meatballs and gravy, mashed potatoes, and vegetable medley.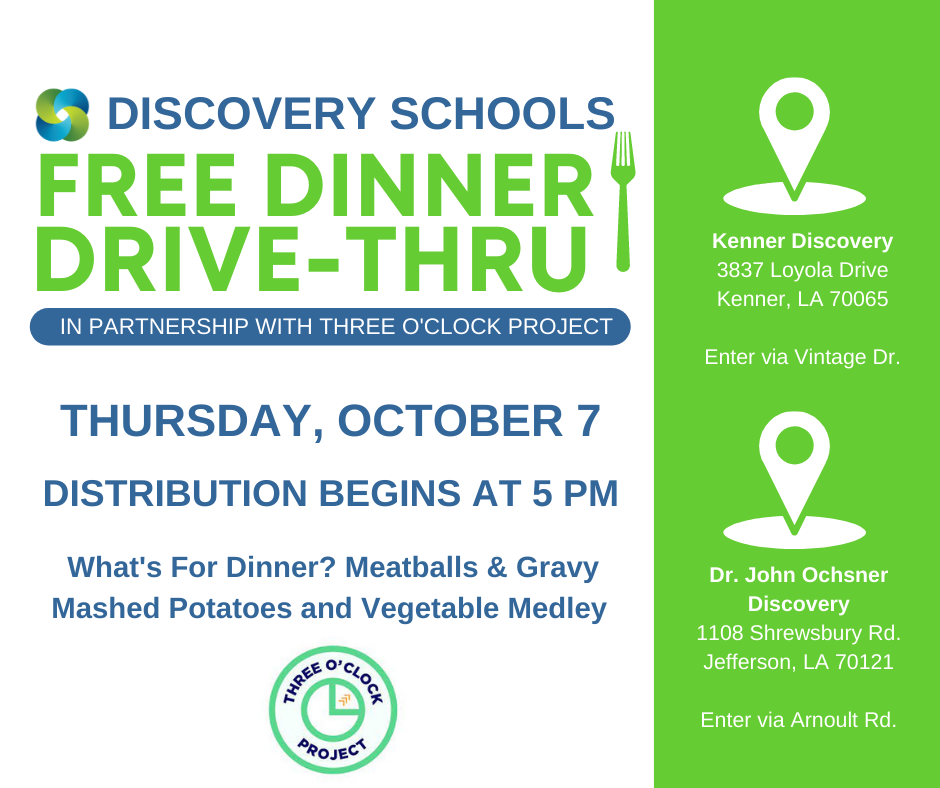 Dinners are now out at both campuses. Thanks to all who came out!

Free Drive-Thru Dinner tonight from 5-6:30 at Loyola campus and DJOD. Tonight's dinner is BBQ chicken, mac & cheese, and green peas. This event is open to all. Share with your friends and family!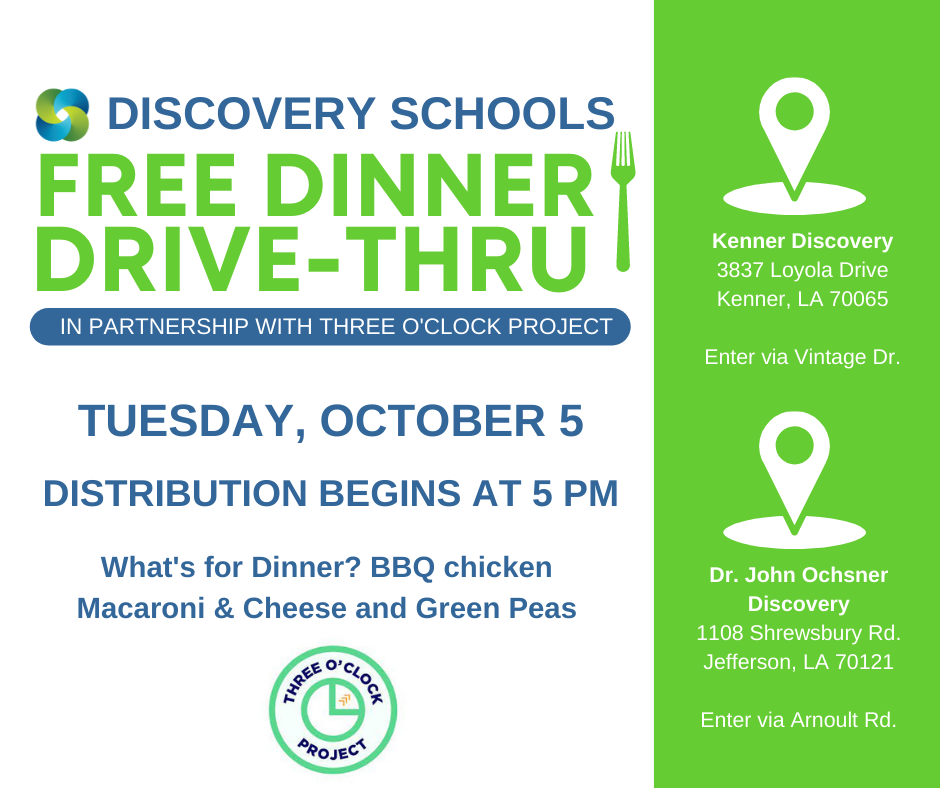 Discovery Family, We are in need of your assistance this weekend! We are asking all families to apply for the federally funded free and reduced school meals program. Even if you think you will not qualify, we ask that you apply. This information is critical to our school's success and support. The percentage of students who qualify for free and reduced price meals is reported to the state Department of Education and to the Parish. The free and reduced lunch percentages enable public schools to qualify for other grants and funding opportunities to support families. In addition, meals are currently free for all students, but that will end. When it ends, we want all qualified students to receive free or reduced prices on our high-quality, healthy school meals. Please take a few minutes to apply now: INSTRUCTIONS FOR COMPLETING YOUR FREE AND REDUCED PRICE LUNCH APPLICATION ONLINE Step 1: Go to:
www.mymealtime.com
Step 2: Create a MealTime Online profile by clicking on the "Create new profile" link and entering a Username and Password that you will use to login to MealTime Online. Step 3: Log in to your MealTime Online account (using the Username and Password that you created in Step 1). Step 4: Click "New Application" and follow the instructions to complete your application. For questions, you may contact the School Bursar, Tiffany Chatelain @ 504-229-2143 or
tiffany.chatelain@discoveryhsf.org
. Thank you for being a continued partner and supporter of Discovery Schools!

No line at DJOD for FREE red beans and rice dinner! Pick up dinner for your family or bring some to a family in need. All are welcome. Tell your friends! Pick up at 1108 Shrewsbury Road in Jefferson.

TGIF! No need to cook tonight...Come by the Loyola campus or DJOD to pick up FREE dinner starting at 5 PM. Tonight's dinner is Red Beans & Rice w/ Smoked Sausage & dinner roll.